In 1958, when I was 8, the most thrilling time of my life began. We moved to Accra in Ghana for 3 years. Here Diana and I would literally run wild. Our lives were filled with a household full of servants (13), disease (Malaria), snakes, the endless beach and surfing, exotic food, rabid dogs, pet monkeys, pet deer, pet guinea pigs, pet cats that would be eaten, pet dog that ate the furniture. We were largely unsupervised and roamed Accra and traveled to and from England on our own aged 8 and 7.
Why Ghana and why 1958? The big plan was to develop the Volta River so that Ghana could become a major centre of Aluminum smelting. Dad was the Alcan leader, aged 32, who was sent out there to get the project off the ground for Alcan. This posting was the turning point in his life too. After it he would never be able to work for another company again and had to have his own business. He also, like Nelson in the West Indies, met his core team there and this Band of Brothers gave up their security and joined him in the great adventure that was how they changed the Aluminum business in Europe and Canada in the 60's and 70's.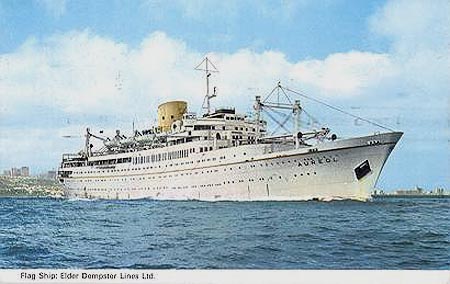 We, Fluffy, Diana, our mother and our new sister Cindy set off by boat, the Aureol, via the Canaries, Freetown to Takoradi harbor in Ghana. The Elder Dempster Line was the way to go.
Takoradi had a pier. If we had gone to Accra we would have been unloaded like this.
Dad had flown out there to find us a house and to get his new business set up. He flew this plane run by BOAC. In those days the International Terminal at Heathrow was just like Charlottetown Airport today!

My mother spent most of the trip trying to keep Chiefy, a strikingly charismatic Ghanaian Chief out of her bedroom. The party line is that she did. Fluffy was very sea sick for the first week as we churned our way through an immense storm in the Bay of Biscay. I was able to identify the ship because of the memory of the storm.
This picture, taken of the ship just before she went to the breaker's yard, is of the staircase going down to the dining room. I had my sea legs and was having breakfast in front of twins. They had just finished their porridge and then they both true up filling their bowls. I lost it and ran out of the room reaching the foot of these very stairs whe I too threw up into the ash tray bin that was at the foot of the stairs.
Our cabin would have looked like this - another picture taken at the end of the ship's long life.
The wonderful thing about traveling by ship is that you gradually shift landscapes and cultures. For much of the voyage we sailed along the coast of Africa just as the early explorers had done. Sprinkled along the coast were castles of the old slave trade. Ghana was full of them. Many had been founded in the 16th century! As we made our way south, the heat and the smells of Africa joined us. Diana and I learned to swim in the tiny black and forbidding pool on the ship.
What was our new home going to be like? We only knew of adventure tales such as Rider Haggard's books and the story of Livingstone. We thought it was all going to be jungle and wild animals.

In fact we discovered that Accra was very cosmopolitan with a large middle class and far away from the jungle - though not from lots of animals both wild and tame as I will tell you about later.

Ghana had just become independent. It was very different from all the other colonies in Africa. Known as the White Man's Grave, Ghana's malaria had kept out all white women and therefore there was no land owning and the few colonial men who had been stationed there had to become part of the Ghanaian culture. There was only a small amount of the tension between the races that was so real in other parts of Africa.

For Diana and I this meant that we became colour blind. There were very few children who were white and most of our friends were black. At school, whites were a small group. At home we were white and mainly ate white food. But in our adventures we were Ghanaian and we ate Ghanaian food. Accra, that only had maybe 150,000 people then, a very safe place where two small white kids would always have people keep an eye out for them.
Next Life in Accra - Pets, School, the Beach and living in a "Household"

technorati tags:Rob Paterson, Ghana, Accra, Elder Dempster, Alcan, Volta River, Fluffy, Diana (Paterson) Fischer
Blogged with Flock